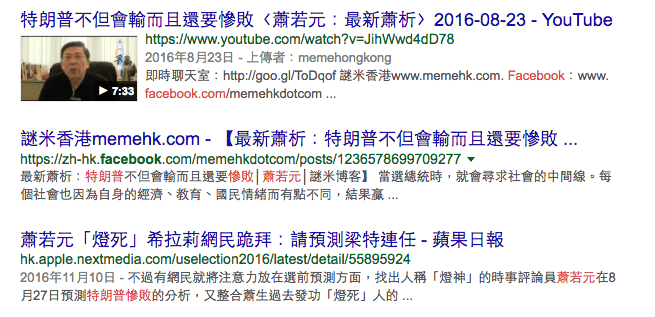 Latest update: 7 Apr 2017
Politicians around the world love endorsements, but we doubt anyone would like the ones from Hong Kong's Stephen SHIU Yeuk-yuen, who becomes a local online urban legend, by backing the losing candidates in elections, or predicting the exactly opposite outcomes in referenda.
He even once predicted Donald Trump would lose the U.S. presidential election in 2016 "definitely". Norbert Hofer became the latest "victim" of his "blessings": Shiu claimed in his online radio programme, that Hofer was highly likely to be elected as Austrian head of state.
Shiu also claimed United Kingdom would vote to remain within the European Union earlier this year, yet another example of his ability on fortune mis-telling.
The accuracy of his predictions, earned him a nickname as 燈神 "lantern god", a sarcasm term refer his "blessing" as exact false "light of hope". A hashtag, #燒山好野, literally means "Hail to Mr Shiu", is widely used by Netizens, whenever the opposite of his oracles, becomes a reality.
As his programme on his own online radio station covers global affairs quite a lot, we simply wonder who is the next world leader receiving Shiu's blessing.
Shiu's victim since Norbert Hofer
Even movie La La Land
Park Geun-hye of South Korea

Syrian Air Force
As Shiu predicted nothing happened during the summit between Trump & Xi, President Trump ordered the strike against an airfield of Syrian Air Force.