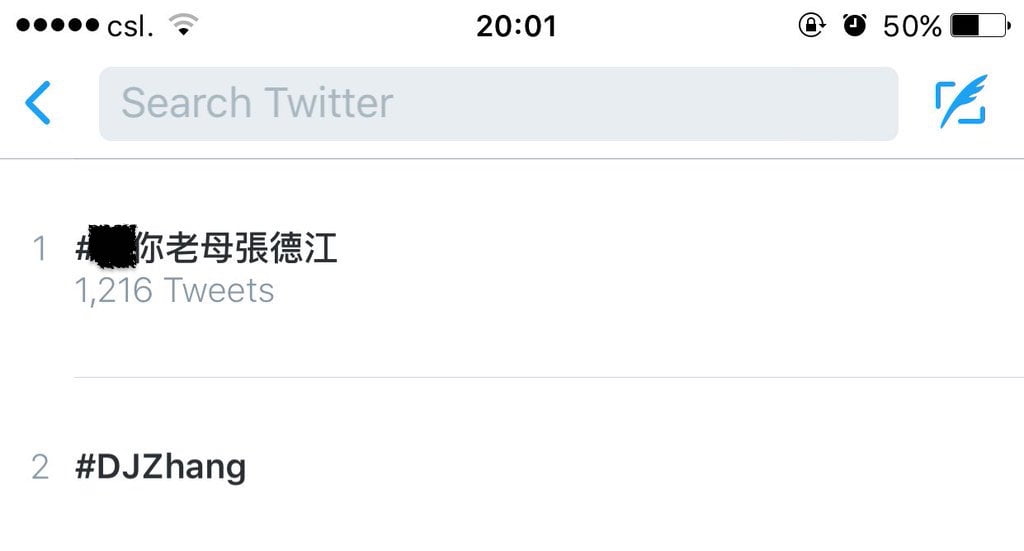 A rare scene in twitter, as complains and even F-bomb in a Hashtag form topped the trending topic Twitter chart in Hong Kong, as a top Chinese Mandarin landed in the SAR.
Chang Teh-Chiang (or unpronounceable Chinese alternative Zhang Dejiang), the speaker of the communist Chinese legislature arrived in Hong Kong on Tuesday for a three day visit in town.
The major event of the visit is a forum for the Chinese New Roads to West, or under a puzzling official name, "Belt and Road forum".
However the security for Chang is extraordinarily tight, as the local police force raised to an "anti-terrorism attack" level, featuring walls in the city, blockade of large section of roads in Wan Chai, and 30 bus lines with diverted routes.
Walled city for #DJZhang #DLLMDJZhang #__你老母張德江 pic.twitter.com/wtQ3iVhweX

— Hong Kong Daily Fail (@DailyFailHK) May 17, 2016
Such traffic blockade cause a lot of congestion on road and even more crowded MTR trains, so people started to complain on Twitter.
People get in MTR because of road closure nobthanks to #DJZhang #__你老母張德江 pic.twitter.com/wtQ3iVhweX #DLLMDJZhang https://t.co/5DMDJ2RW6h

— Alan Mac Ailbhe #SAS (@28481k) May 17, 2016
#__你老母張德江 pic.twitter.com/wtQ3iVhweX pic.twitter.com/zOvNAbGHIH

— honwaikit (@karaiketsu) May 17, 2016
However, the complains caught up with a F-bomb hashtag "__你老母張德江", literally means "fxck your mother, Chang Teh-Chiang" as citizens were reminded in a tweet recently, that Chang was the Party Chief in Kwang-Tung Province during the SARS outbreak in Canton city, who responded to the outbreak by restricting the flow of information to the public in 2003.
Such censorship led to Hong Kong's lack of information about the deadly disease, and was totally overwhelmed when SARS bad been brought to the territory by a dying professor.
Chang himself may be aware the fact, as he claimed that Hong Kong and Kwang-Tung " scored victory in the fight against SARS together", which causing more anger among twitter-sphere.
Meanwhile on Facebook, other people also mocking police actions to protect Chang, as a small squad even ordered to station on the top of Lion Rock.
There were few times since the Umbrella Revolution that banners demanding "real universal suffrage" hung from the position, causing huge embarrassments to the SAR government.
However, the police camp on the top of rock cannot prevent a similar banner dropped from a lower position of the mountain rige